The City of Ouray is requesting proposals from qualified contractors for Fellin Park Asphalt Track Overlay. The City will be accepting separate sealed bids until 2:00 PM on Thursday, March 27, 2014.

A mandatory pre-bid meeting is required at Fellin Park March 13, 2014 at 1:30 PM.

Interested contractors should download all three documents below.

Advertisement for Bids
Request for Propoals
Sample Contract
The Colorado Municipal League (CML) annually publishes a report on the state of Colorado's municipalities. As a member of CML, the City takes part in the survey and contributes information to the project. Below is a link to a short presentation with information on the final report. Additional material is also available at City Hall for the public to view. Please feel free to offer comment on this report.

Visit CML website for video feed.
As we close out 2013, I wanted to take the chance to reflect on the year, to acknowledge the accomplishments of our community's City government, and to share what is in store for the New Year. Read more.
Weather and Roads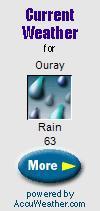 Ouray Live WebCam
CDOT Road Report