Regular Hours:
Saturday and Sunday, 11am - 9pm.
Monday through Friday, 12pm - 9pm.
The slides and inflatables are closed for the season.

Christmas Eve 12pm - 5pm.
Christmas Day 4pm - 9pm.
New Year's Eve 12pm - 5pm.
New Year's Day 12pm - 9pm.
See other seasonal & holiday hours.

Get more information here or follow the Hot Springs Pool on Facebook.com.


The Budget Memo from the City of Ouray 2014 Budget can be viewed by clicking on the link below. The complete 2014 Budget may be viewed at City Hall during normal business hours, M – F 8:00 a.m. – noon and 1:00 – 4:00 p.m. or at the Ouray Public Library.

Budget Memo
Every year late August signals the beginning of the next year's budget preparation 'season'. The many steps involved in developing the budget are assigned to a timeline. The 2014 Budget Calendar lists the tasks and deadlines.
Weather and Roads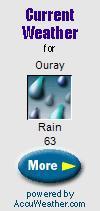 Ouray Live WebCam
CDOT Road Report